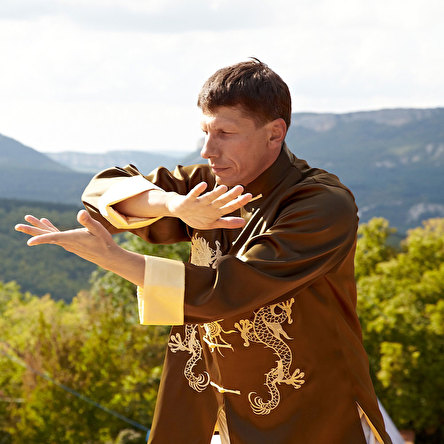 Type of practice: Qigong | tai chi
Practice experience: since 2000 year
Teaching experience: since 2003 year
Eduard Malakhov is one of the few Russian-speaking qigong masters, the creator of his own system of internal self-improvement, based on subtle intuition and deep knowledge.

He began his journey in 1990, studying Shaolin wushu and kung fu complexes from books, in 1998 he became interested in the practice of hatha yoga and began teaching in specialized institutions. Practicing and studying various methods of meditation, in 2000 he got acquainted with the system of qigong Xu Mingtang. In 2003, thanks to the master Chen Xiaowang, he learned the 83 forms of the Chen style tai chi quan and the "silk thread" exercise system. Continuing to study tai chi, he mastered the 24th and 36th forms of Yang according to the master Paul Lam. In 2004, having met master Wang Ling in Moscow, he deepened and expanded his knowledge of tai chi quan and qigong. Later he became the first instructor in his School, the foundations of which he helped to lay and create. He also actively participated in all seminars and tournaments, helping the development and development of tai chi quan and qigong in Moscow for many years. Repeatedly visited China (Wudangshan mountains, monasteries) in order to deepen the practice and study of Taoism. He studied and taught qigong and tai chi quan, wushu with elements of acrobatics, internal styles of Bagua and Xin Yi, as well as complexes with weapons such as a sword, fan, pole, nunchaku.

Master about himself: "It is difficult to talk about yourself, you can only "see" or feel yourself. Most people don't look where the Master is pointing them. They are interested in his personality and life. And the more status the Master, the more unconditionally they believe him and try to build their lives in relation to him. I will not give food to your mind, a person has only his life, the universal consciousness manifests itself in a unique way in everyone. The Master that you find within yourself is the only one who will give answers to all questions. But those who have revealed it, or those who have found it in themselves, help to find it.


I am eternally grateful to everyone with whom my life has brought me together. I will not name their names and nationalities, we are connected by heart, and they feel it. Any tradition is dead, there is no ideal system, if it existed, everyone only learned from it, but life always "becomes" and changes. There is a certain strategic plan-scheme, but it must be flexible. We are not robots, biomechanics and physiology is a scientific approach. Our body is a unique system that proves again and again that we know nothing about it. We are complex and amazing beings, and from our interaction with each other, the master we seek outside of ourselves is born. You can only convey your own living experience, pointing the right direction and warning about mistakes, but this requires personal contact. This is how development happens. There is no special practice for life, life itself is quite enough, but life from its fullness gives birth through us to something new, unique, and this process is endless. If what you do brings joy to you and those around you, then this is what life wants from you, or rather, what it gives people through you. To follow this current is to unite one's will with the Great Master."
Read more...