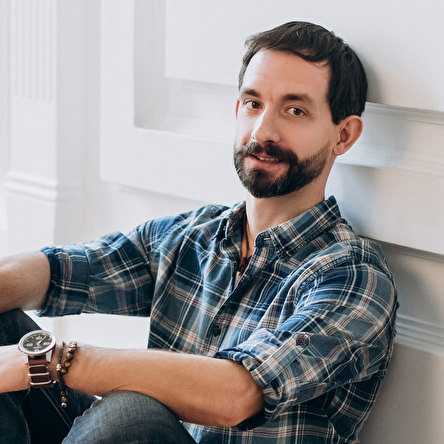 Type of practice: Yoga23
Practice experience: since 2000 year
Teaching experience: since 2004 year
Pavel Makarin is a senior trainer of Andrey Sidersky's Yoga23 methodology. Practicing yoga since 2000. And since 2004, he began to try himself as an instructor. Conducts group and private lessons. Develops personal practice programs.
The training process builds on two basic principles: "From simple to complex" and "From particular to holistic". This allows each of the participants in the process, regardless of experience, through yogi gymnastics as safely as possible, and at the same time deeply and voluminously explore themselves, work out their tendon-muscular apparatus, identify the so-called "blind spots", weak and enslaved areas, remove during practice, unnecessary tensions in the body, without generating new ones.
In his training, Pavel puts emphasis on leveling the psycho-emotional background and evenly distributing the density of attention in the body, thereby expanding his perception and increasing his life efficiency.

The first basics of yogi gymnastics, like many Soviet flat-footed-scoliotic-kyphotic children, Pavel comprehended in the exercise therapy room of one of the Kyiv clinics. Some time later, being already a student, he resumed physical culture and gymnastic yogic practice and was pleasantly surprised to find that, in addition to physical education, this activity hides something much more valuable and profound.
Getting to the lesson, from the very first phrase of Pavel there is a feeling that you are in good hands. Clear, consistent commands, smooth but dynamic transitions immediately include the body and mind in the process. Interesting sequences, professional detuning, exceptionally competent dosage of the fixation phase, personal experience - all this makes Pavel's training unique in terms of mood, sensations during and after. Every time you find more and more muscles in your body. This allows you to achieve really visible results in the restructuring of the whole organism in a short time.
Despite the challenge posed by Pavel's intensive training, the tuning to the rhythm occurs spontaneously. Training inspires, inspires faith in yourself, in the capabilities of your own body, in the power of will and desire to come to something invariably better in yourself and your life.
Read more...