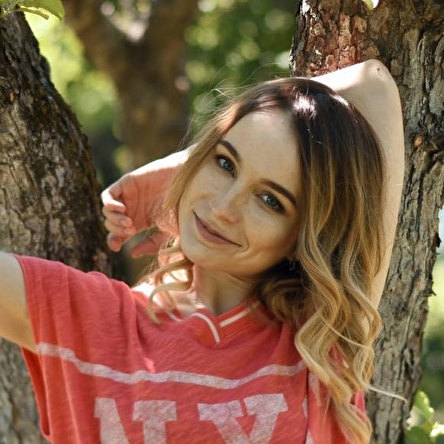 Type of practice: Yoga23
Practice experience: since 2004 year
Teaching experience: since 2010 year
Taisiya Pavlyukova has been teaching yoga for over 8 years. Her workouts combine strength and flexibility of the body. Work in static positions alternates with moving exercises in dynamics. Taisiya pays special attention to transitions between asanas. In her work, she uses the Yin & Yang stretching style and dynamic stretching and static power fixations. During her training, you will be able to disconnect from worries and discover something new in your psyche, physiology and spirit, and flexibility exercises will help you get rid of the "clamps" in your body.

Here is what Taisiya says about yoga: "Yoga is not practiced for spectacular tricks or a beautiful body (although all this also comes as a result). The practice of yoga is aimed at healing, improving well-being and harmonizing the state. When you do not torment your body for the sake of external results, but harmoniously improve your entire functional system, you get a healthy body, a strong, flexible, beautiful body and a clear head.


Taisiya started practicing yoga in 2004. Since 2007, the main place of study has been the studio of Andrey Sidersky, where she studied according to the Yoga23 system, which impresses with the fact that it is objective in the conditions of modern Western society. In 2010, she began teaching yoga classes on her own.

As a professional translator, Taisiya is fluent in English and can translate from Spanish. She also studied German, French and Latin. He has experience as a marketer, logistician, research writer.

Taisiya is a very sociable, active and optimistic person. She participated in musical projects as a vocalist, also studied piano and guitar.

She has been involved in sports since early childhood. She was engaged in hand-to-hand combat, capoeira, acrobatics, kung fu, and snowboarding. He loves and always strives to learn new things.
Read more...