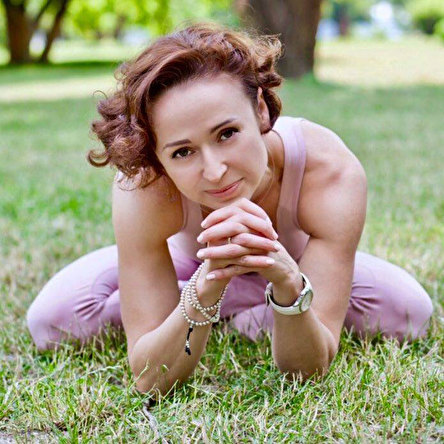 Elena Savchuk is one of the leading yoga trainers in Kyiv. Regularly conducts individual and group classes of various levels of complexity. Preparation for pregnancy or recovery after childbirth, regulation of hormonal levels and the emotional state of the body are issues that women most often come to classes with, but in the end, subject to diligent and regular practice, they discover much more for themselves, and the resolved issues, with which they originally came to become just a pleasant bonus to the amazing changes that they discover in themselves after training with Elena Savchuk.
The combination of an individual approach and knowledge of human physiology helps Elena to competently approach each client.
She is also the author of the thematic lesson "Working with balances", which includes a more in-depth acquaintance with asanas for balance, concentration and coordination. It includes adjusting the "geometry" of the asana and finding a balance between strength and flexibility, tension and relaxation.
Olena graduated from the Vinnitsa State Pedagogical University and completed her postgraduate studies as a trainer-teacher of physical culture and sports. For 5 years she worked at VSPU as a teacher at the Department of Theory and Methods of Physical Education. At the same time, she worked as a diving coach at the Sports School of the Olympic Reserve. He is a master of sports of international class in diving. She performed in water parks in Europe as a water show artist. For three years she worked in Mozambique as a specialist in physical culture and sports in the regional directorate of public education.
She has been practicing yoga since 2003, and since 2006 she has been teaching yoga and water programs at the Leonardo WELLNESS club. At the same time, since 2007, she has been teaching at Sidersky's yoga studio. Experience as an instructor: children's fitness and yoga, teaching children to swim from babies and older; water aerobics; work with pregnant women pool and yoga. At the moment, she conducts group and individual yoga classes. Since 2013, she has been practicing Zhong Yuan Qigong and is a personal student of Master Xu Mingtang.
Recently, she has been practicing guasha massage and image therapy - these are Chinese energy techniques based on the practice of qigong. In the past, Elena is a professional athlete (MSMK in diving), a diving coach and teacher at the Department of Theory and Methods of Physical Education at the VSPU. From his own experience, he knows what hard work and work for results are, however, he knows what injuries are, and why a straightforward approach may not be the shortest path to achieving results. Therefore, in her training, she pays sufficient attention to detail, leading up exercises and detuning the correct body position. Elena is sure that a good base is a solid foundation in any practice! Her workouts are quite soft and balanced, turned inward, they will help you to hear and correctly work out your weak areas and, thereby, strengthen your strengths. Practicing qigong helps Elena better feel and understand the needs of the people who come to her classes.
Read more...